How is everyone doing?
For those in the southern hemisphere, I hope you're keeping your cool. It's been getting so hot lately -.-'' and summer is supposed to be disappearing into autumn but I guess not just yet.
Anyways, I'll get straight to the point of this journal. Some of you might be reading this after coming across my poll on your deviantwatch messages but either way; I decided to conduct some activity on my facebook page by joining in an event they hold annually called the draw February challenge. Basically, you produce one drawing per day for the month (kinda like diary entries) and then a select few would be chosen for some cool prizes and stuff. I finally found their facebook page but to only realise that they won't be having the event this year D'8
I figured I would do it anyways because I've been wanting to engage the people who follow my facebook page for a while now. So what I've been doing is getting people to participate by requesting something for me to draw. I've been getting quite a positive response (despite few people taking advantage and using it as though it's a free ride :\) but aside from that. It's been lots of fun drawing things other than the usual blue blur and co. haha
Here's what I've drawn so far: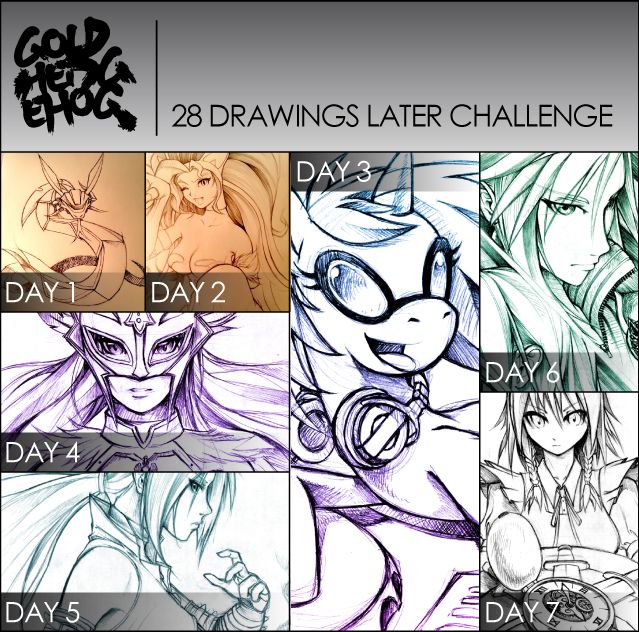 As you can seen, I've been drawing lots of stuff that's out of my comfort zone (namely, humans haha) and it is loads of fun drawing different things.
So if you aren't following my facebook page. Make your way over there and like the page and perhaps make a request. Though I can't guarantee that I will do every single request. I just pick ones that I think I have enough time for. I'm doing this challenge in my spare time so I don't want to be slowing down because of a massive amount of requests to draw something for people @.@
And so with that. I'm contemplating whether to upload the sketches/drawings that I've been doing onto dA as well but we'll see how it goes

Thanks for reading.